FRITZ!Box 7272 Service - Knowledge Base
FRITZ!Box 7272 Service
Not your product?
This document is also available for the following products:
Vanaf internet toegang tot FRITZ!-producten in het thuisnetwerk
Vanaf internet heb je met de MyFRITZ!App voor Android gemakkelijk toegang tot alle FRITZ!-producten in je thuisnetwerk, ongeacht of dit een extra FRITZ!Box, FRITZ!Repeater of FRITZ!Powerline-adapter is. De MyFRITZ!App voor Android installeer je eenvoudig op je smartphone of tablet. Vervolgens kun je in de MyFRITZ!App onder "Home network" een verbinding tot stand brengen met je FRITZ!Box en de gebruikersinterface openen van andere FRITZ!-producten.
Als alternatief kun je ook een VPN-verbinding tot stand brengen met je FRITZ!Box, op Windows-computers bijvoorbeeld met het programma FRITZ!VPN, en via het thuisnetwerkoverzicht van de FRITZ!Box-gebruikersinterface toegang krijgen tot je FRITZ!-producten.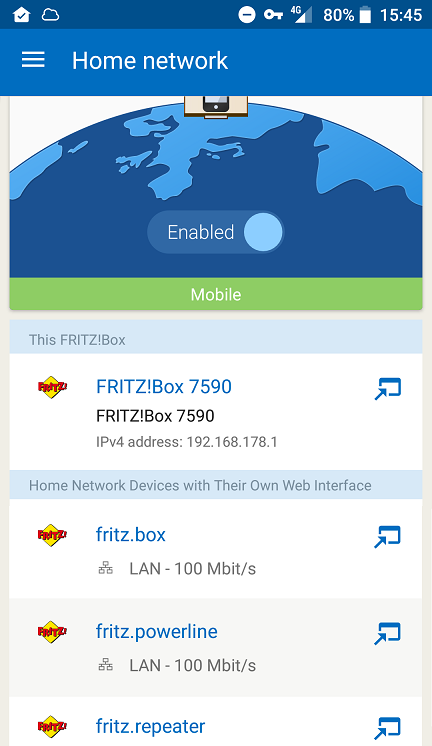 Afb.: "Thuisnetwerkapparaten met eigen webinterface" in MyFRITZ!App